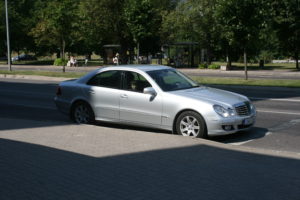 For private transfers passengers can choose from Mercedes Benz E  class, Škoda Superb  and  Renault Trafic  (seats 8).
If you send a description of your transportation needs to  or if you fill out the request form we will contact you a.s.a.p. to offer you an appropriate solution, price and payment conditions. On weekdays from 9:00 a.m. till 5:00 p.m. the order can be made by phone as well:
For orders call: (+372) 505 4342 or (+372) 5817 3519
Riga – Tartu (Tartu – Riga),  Our usual trips are:
Tallinn (airport, port) – Tartu (or in opposite direction),
transport of lectors between the universities of Tartu and Tallinn,
also trips to other destinations and in Tartu,
we have brought urgent shipments from Finland and made excursions in Vilnius with our clients
In crowded places (airport, port) our driver always has an information board, so the client and the driver will certainly find each other.